The Grey Roost
Quick Links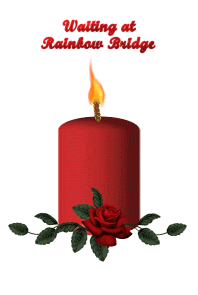 Otis, Timneh African Grey
Otis, Timneh African Grey
Otis, our little Timneh Grey family member lost his fight last night with his failing kidneys and liver. ? - 12-23-04
Otis has lived with me for 12 years. He was a bird no one wanted, and had found his forever home with me. His band can be traced to California, though I did not know his age. He was a wild caught grey, that never for one moment let anyone he came in contact with forget!!! His life was hard, being abandoned on a pet store door step at night in the frigid month of February in the north east. He was given to the first customer who walked in because of his unbelievable growling and overall nastiness. This woman kept him for a year in a broken cage on a linoleum floor, in a room with no heat, with no toys or perches in which to sit or play. This woman finally called my bird club to place him, and after 19 calls to members, and 6 interviews with the bird, he was still in need of a home. Once I saw his predicament, I refused to leave him there. I placed him in a carrier, and off to the pet store to buy him a cage. Otis went to live with my dad because I was certain he had some kind of disease and it was to risky to bring him home around my other birds, (with all he had been through, and how he was forced to live.) Once I was able to save up enough money to have him properly tested for all bird diseases, he came home to live with me. Several years down the road, Otis contracted Aspergillosis. This was 100% MY FAULT, since I was using what I *thought* was the best out there to line his cage......CORN COB BEDDING. Since it was newer to the market, it was not known at the time that it harbors fungus spores, and Otis was breathing it in. Otis was placed on a high dose of Diflucan for 45 days. At that time, it was thought that Asper was contagious, so needless to say, 17 birds were on this medication daily, but not for the extended amount of time that Otis was. Otis came thought it like a trooper.
Many years later, Otis started to pluck and was unsteady....after thousands of dollars in tests, but at least 4 different Dr's throughout NJ and NY..((before I knew of the Animal Medical Center)) it always came out that Otis had low calcium levels,a and his liver an kidneys were failing.... For nearly 6 years, Otis was disabled, and could not perch. He was hand fed for several of those years. He became more self sufficient once he saw the babies (Sampson Bell, Sydney and Emma Lynn)) come to live with us. He finally decided to eat on his own.... One of my funniest memories of him is that Otis was a very fast runner in his old days....he was always trying to "run away". We kept him clipped for safety reasons...One day George and I had his outside in our front lawn, and Otis decided to make a run for it.....he made it into a bush, that was only 24 inches high, and Otis only getting about 2 inches off the ground, thought that he was 30 feet in the air and was growling and snapping at us the whole time we were trying to get him off the branch.....((while we were laying on our bellies to see him)) In his prime, Otis also took first prize at a bird show, as "Best in Show". People who have been over can see his ribbon displayed, just as the day he won it.
The last two days he was very restless, and yesterday he lapse into a comatose state. Sampson Bell's Dr, who has moved to Buffalo NY was very kind to call me last night to calm me and confirm what I had thought. THANK YOU DR WADE....
Otis waited for me to come home from work.... I put him in the spare bedroom because I did not want to stress the others in the room, and turned on the Christmas tree for him...we had a little talk, and I told him it was ok to go. I noticed his breathing slowed, and I could see his little heart stop..... So, that little wild creature, that no one wanted but me..is now able to fly again somewhere over the rainbow, and return to his wild life, just as his life had started...... I know he is finally happy....