The Grey Roost
Emma Lynn
Emma is a 5 year old, special abled Congo African grey. I first found out about her, by searching the net and finding an ad for someone trying to find a home for a disabled grey.
I started writing to the breeder who told me the story of her life so far. She was the only egg out of two clutches to survive. The parents were to younger greys that this breeder just rescued out of a garage. The first time she set them up to breed, all was fine, till they cracked the eggs in the nest. She took off the nest box and boosted up the calcium intake and fresh foods. Soon after that, another clutch was laid, and soon after the 3rd egg(Emma) the parents broke the first two and Emma was pulled. She was placed in an incubator and that was her home. We theorize Emma's Egg may not have been turned as much as it would have been by her birdy parents if left in the nest. That is what leads us to what makes Emma special.
Emma's condition is called Torticollis and it left her permanently disabled with a twisted neck. Congenital torticollis (present at birth) may be caused by wrong or faulty position of the head in the egg, or by an injury of the muscles, nervous system or muscles. The exact cause of this condition in her case will remain unknown.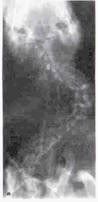 It was love at first site, when the breeder sent me her picture. A little baby, not all her feathers, wearing an awful neck brace. I cried when I saw her because I had just lost my beloved Sampson Bell. She reminded me so much of him. From the little red band on the same leg as Sampson, down to the awful neck brace they shared. Sampson left this world, and his last days, wearing a brace, that Emma was starting her life wearing. It tore me apart.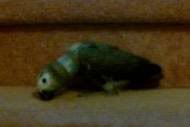 Emma Lynn

Sampson Bell
I printed out her picture, and kept it with me. I would spend hours just staring at her picture on the computer screen, waiting for another update. It was not known if Emma would ever be able to perch, fly, eat on her own or talk. At that time in my life,I was going through a divorce, was very sick, and was $7,000 in debt over Sampsonís remaining bills. Each time I even considered that I might be coming close enough to get her, something came up.
At the same time, my father became very Ill with Vascular Dementia, a disease that has no cure, and eats away at you very much like Alzheimerís. I took my dads two greys, Bubba and Stirling, out of his house since he could no longer take care of them. A day later, my dad ended up collapsing and being rushed to the hospital, never to return home. I now had two African greys on my dining room table, and a VERY small house. I had no room for Emma.
All this time I was in contact with the breeder. She would still send me pictures. I would send Emma toys so I felt part of me was with her. Eventually, I was able to find a loving home for my fathers one grey Bubba, who had a love hate relationship with me. I loved him, and he hated me. With that placement, Stirling was then moved into the bird room. Nine months after Emma was born, and still without a home, I went to go pick her up. Emma was finally coming home to spend her life with me. It was one of the best days of my life.
Emma has come along way. She is able to perch, eat, fly in circles and even talk somewhat. Emma has been to one of the best Avian Vets available to her, for a check up to make sure all is well. It is a good possibility that Emma will have Arthritis down the road. But other than that, everything else looks good. I must admit, I worry about what the future holds for my little girl. Emma has learned to thrive in her environment. Little things are different with her, say compared to her Brothers, Sydney and Stirling (different breeders, but still her brothers in this household) He cage is shorter, so she doesnít have far to fall off her perch when she is sleeping. Her playpen is also lower. She has a hard time eating certain things, such as chick peas, and they happen to be one of her favorites. She is very loving, and trusting. Because of her disability, I have actually met several people with birds that have the same disability as Emma.
While the easy questions about normal greys are answered, the hard ones for ME remain. Who do I have to talk to about what the future holds for Emma? The answer is the people who have taken in these special birds way before I did and with them, I am able to find comfort.
The Dr's do not even know how to answer my questions and tell me just to give her the best quality life I can. I hope I am able to do so.