The Grey Roost
Quick Links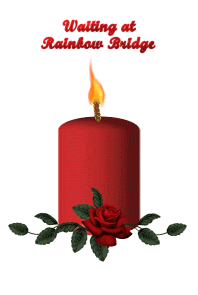 Quasi
That morning started out as just another trip to the Greater New Orleans Bird Fair. My parents and I never missed the opportunity to "window shop" at a bird fair, but this time we had a mission. The larger foster parrots in our house had taken over the smaller play gym my Vosmaeri eclectus had been favoring, and we hoped that a new one would help the two large cockatoos we had recently taken in to leave Scarlett in peace. My father and I were deep into a jungle of java and manzanite "trees" when we noticed my mother had wandered off. She was sitting with a breeder at one of the booths nearby, and had that look on her face that meant we were about to have to rearrange the living room furniture again. My father left me alone with the play gyms to see what trouble my mother was getting us into now. He was back only moments later to tell me that he needed me to help him pick out cages and perches for a special needs Grey that couldn't perch or climb correctly. I asked him how much they were asking for him, and my father informed me that we were getting the little guy for free because the breeder thought she was going to have to put him down. A few stops at a our favorite vendors and we had only spent $200 for a brand new, extra wide cage with horizontal bars, several platforms, shallow bowls, and a couple of rough perches. Apparently everyone at the fair had met our new ward earlier during vendor setup, so they were eager to help us out even more than when we were buying supplies for the rescues. We walked over to where my mother was still sitting to get her approval on all of our purchases, and she was getting lessons on how to properly handfeed our newest addition because it was considerably different than the normal procedure. In her arms was the largest "baby" Congo African Grey I had ever seen. His feathers hadn't finished coming in, and in several large spots there was only the fluffy light grey down covering him. His neck was twisted so that his head was completely upside down.
His eyes were beautiful and light grey—he was 9 months old! The breeder couldn't tell us what was slowing down his development. After a few more lessons, we walked out of the bird fair, wheeling the new cage and accessories. Without Scarlett's new play gym. We named him Quasimodo (Quasi) because his walk reminded us of Disney's Hunchback of Notre Dame. It took him a little over a year to finish weaning and for all of his adult feathers to come in. We set up his cage next to Scarlett away from the foster birds. He began speaking immediately and in no time had picked up all of Scarlett's words and noises and had added a few of his own. He only tried to fly a couple of times, and each time he glided to the floor in large circles like a vulture circling its prey. When he was on the floor and excited to walk somewhere, he would often walk in a few small circles before going straight towards his goal. He became instant friends with Scarlett, who would share his food and bring over some of her favorite foot toys to his cage, since Quasi couldn't climb into her cage.
It took him until he was almost 2 before he could perch and climb sufficiently enough to remove most of the platforms from his cage.
He was surprisingly independent for a bird that needed everything done for him for over a year. He refused help to climb into his cage when he found himself on the floor, he would rather walk behind you than be carried around. But he loved to cuddle at night after dinner until bed time. His favorite things to say were "I love you" and "Quasi needs hugs." Right before his 2nd birthday, Scarlett began refusing to leave Quasi's cage at night. She suddenly began lunging at and attacking anyone other than my mother and myself who tried to take Quasi out of his cage. I called our avian vet for advice and he asked us to bring in both birds for a visit. We made an appointment for the next day. At the vet's office, the tech asked us to put both birds on the examination table. Scarlett and Quasi hung out talking to each other in their usual mumbled "birds only" language until the vet came in. Scarlett immediately positioned herself between the vet and Quasi and prepared to attack. The vet asked me to pick up Scarlett so he could examine Quasi, but as soon as the vet began to examine him, Scarlett started screaming. Scarlett and I had to go into the waiting room while the vet took blood samples and X-rays of Quasi. The X-rays showed thickening in Quasi's kidneys and liver, so he sent us home with a few dietary dos and don'ts while we waited on the blood tests.
A few days later the vet called and gave us the news. Although there was no way to test for what he suspected Quasi had without an autopsy, there was no other diagnosis possible. The disease was incurable but thankfully not contagious. It was probably also the cause of Quasi's late development. There was no known treatment because if this was what our vet suspected, Quasi would be the first living parrot known to have it. He gave us the name of a vet at LSU who might be able to help us out. We called LSU, and were told that there were two options. They could help us medicate Quasi to make him comfortable until he died, or they could do this while running tests on him to hopefully find a cure. No promises were made, and we packed Quasi up and brought him to LSU for a month expecting that the next time we saw him he would be dying. Scarlett was very upset with us the entire month Quasi was gone and refused to come out of her cage most days. A month later, we picked Quasi up along with a few medications that had caused an improvement in his condition. For the next three years, Quasi spent one weekend every two months at LSU for their continued study. For the most part, he was his usual inquisitive self, with the exception of the first few days after every trip to LSU.
And then, a month before Quasi turned 5, Scarlett moved into his cage again and refused to let anyone touch him.
We rushed Quasi back to the LSU, and they told us that the treatments had stopped working and the disease was finishing its course. He only had a week or so left, and if we wanted we could either put him down or give him some pain medication and let him die naturally. We opted to medicate him and let him go naturally, which may have been a selfish decision on our part. We brought him home, and I left for a weekend trip for a competition with a college case team that had been planned all year. The day after I left, my mother came in to feed Scarlett and Quasi in the morning and found Quasi at the bottom of his cage. She took him out and tried to get him to eat, but he kept regurgitating everything. That night, Quasi told her "I love you," then lowered his body into her lap to rest. A few minutes later, he died. Six years later, Scarlett still misses Quasi. Adopting Quasi's quiet computer voice, the first thing she says every morning is "Good morning Quasi." When she's settling down for bed every night, she begins talking in the special mumble language only she and Quasi understood. Because Quasi never came back after my mother took him from his cage the day he died, Scarlett is convinced she took Quasi away and refuses to let my mother touch her when she comes over for visits—we assume Scarlett thinks my mother will try to take her away, too. On those days when I feel like the entire world is coming down on me and I just can't make it through, I can't help but think of that sweet little special-abled grey who insisted he could walk everywhere he needed to go and beat certain death several times.
If so much power could be trapped inside such a little and seemingly helpless body, just imagine what we humans can do.